The Ultimate Guide To Marketing Your Optometry Practice
This 22 page ebook is designed to help you market your new or existing practice, by providing a series of examples and ideas you can implement today! 🔥
Optometry marketing is one of the most important things you'll need to learn and do for your optometry practice.
There are many strategies on how to improve optometry marketing, and different techniques and avenues to do so. However, it can be difficult to determine where to begin.
Here are some highlights some of the most common means of optometry marketing, along with some helpful tips to produce the best return on your investment.
Download the complete ebook by filling out the form! ⬇️👇
Brochures and Promotional Products
When marketing yourself and your practice, you are going to encounter busy people, whether patients or other businesses. Busy people usually want to be left with something to "read later." 😀
This is why you need marketing collateral. Here are some examples of excellent optometry marketing collateral for your healthcare practice.
Branded, tri-fold, brochures about your practice
Branded business cards
Branded promotional products. If you're an eyecare practice, this might be eyeglass spray or an eyeglass cleaning cloth with your logo.
These seem like a costly investment up front, but the $1,000 – $2,000 you spend will pay dividends down the line.
This type of optometry marketing collateral should follow a few guidelines:
Must be new and relevant, so be picky when choosing your graphic designer!
Must be eye-catching, made by graphic designers who resonate with your patient population.
Must have a premium quality feeling. Don't be cheap!
Your optometry marketing collateral will be used to market your practice in the following ways:
When meeting random people interested in getting an exam.
When asking patients for referrals.
During lectures, meetups, or at career and wellness events.
To leave at your front desk and exam room for anyone to grab.
Brochures can be given to potential patients in order to provide relevant information about the practice. Business cards can be used on a more impromptu basis when wanting to make a quick connection or giving to others to share with their families and friends. You can utilize branded merchandise to give to local businesses to introduce yourself as the new doctor in the area.
How to Develop Optometry Marketing Materials
How do you design brochures, you ask? Here are two ways to get these developed.
Design them yourself in Adobe Photoshop – this is a method I utilized because I had plenty of Adobe Photoshop experience. If that is your background, go for it!
Hire a Freelance designer – ask a friend or use a website like upwork.com or 99designs.com, which are very easy to use. Just make sure you give them the full details of what you want your brochure to say. Most of the designers aren't healthcare experts, so I would recommend writing the copy for your brochure in a Word document and then providing that to the designer.
I made four brochures for the practice I started working at and used each one for a unique marketing scenario.
About the Practice
Technology in the Practice
Your Eyeglass & Sunglass Options
Your Contact Lens Options
How To Create Promotional Products for Your Practice
Promotional products are best used if you are having an event at your office, or if there is a particular product that speaks to your patients.
In eyecare, glasses spray and cleaning cloths are perfect for every patient, so it's important to have that on hand. In other healthcare fields, finding a suitable promo product will be difficult, but your standard pens, chapstick, and mints are always fun!
You can check out www.epromos.com for more help.
Starting here is a great first step in marketing your healthcare practice!
Meetup.com
Meetup.com is awesome and is most powerful if you live in a big city and is a great tool for optometry marketing.
Meetup is the world's largest network of local groups. Meetup makes it easy for anyone to organize a local group or find one of the thousands already meeting up face-to-face. More than 9,000 groups get together in local communities each day, each one with the goal of improving themselves or their communities.
How do you use Meetup.com?
Meetup.com allows you to enter your zip code and find groups that meet on a regular basis for a particular interest. You then go to those Meetups and do whatever it is that you do. It basically connects you to people to form relationships.
There are two ways you can use Meetup. Personally I am all about the 2nd method.
You can be a jerk and just go to Meetups to hand out business cards and really just solicit yourself
You can go to Meetups and be a genuine person interested in participating. This way you build genuine connections and genuine leads
Lead Generation Groups vs. Interest Groups
I have found 2 types of Meetups to be helpful.
One is your Lead Generation Group. These are often the groups like "LeTip" and "Exceptional Entrepreneurs." They cut right to the chase and say "we are a group of people who all do business, lets all refer each other business in our small social circle and help each other out." To be honest, this isn't my favorite type of Meetup. I don't think I fit well in the groups being a doctor, something about it seems fake to me, but I know that if you dedicate yourself it will work.
Here's an example of one – Exceptional Entrepreneurs Business Networking
The other type of group in your interest groups. These are the ones that I like the most. It is basically a group that meets for a particular hobby.
How I make this work for me
It's simple actually.
I make genuine friends and we form a solid friendship. From there it is only logical we support each other's businesses. Worst comes to worst, we just stay friends.
I would not go to the first meeting with your sales pitch and cry for help to get new patients. You need to go and be genuine, contribute value to the group, invest your time and help out. It is only natural at that point where people will have a desire to use your services.
We share additional ideas, strategies and examples in the complete ebook which you can download by filling out the form! 🔥
Volunteering
I like to volunteer and help out in my community. I like giving back and helping those who can use it. Do you? If the answer is yes, then this optometry marketing avenue might be your biggest source of patients.
The concept
Basically, all you need to do is sign up for an opportunity, arrive and help out. From there, form relationships and build friendships with people. As you show your face you will build trust with the "regulars." They will understand that you aren't there for your own personal benefit and genuinely care about helping out and volunteering. The natural progression of the relationship will likely lead to them becoming patients and referring friends and family.
How to find volunteer gigs
Simple, go to VolunteerMatch.org and enter your zip code to find volunteer gigs that suit your interests. Remember,  you do this to be genuine and help out, not to score patients, so do something you LOVE.
What I am doing for volunteer work
I rock climb, both at the gym and out in the back country. I absolutely love it. The gym where I climb allows its members to volunteer to host children's birthday parties in exchange for free day passes. Basically a birthday is booked and I come to help regulate the party, supervise the kids and teach them about climbing. You can imagine this is a nice setup because birthday parties = parents and parents help make medical decisions for their kids. When I form a relationship with the parents during the party, it is only the natural progression that they would learn about me as an optometrist and want to bring their kids in.
I also love animals. Recently, I rescued 2 cats, Motor and The Baby, from a local rescue shelter here in San Diego. 🐈 Almost every rescue shelter is a non-profit and they thrive off of volunteers. The rescue shelter was glad to have me help out and this puts me around lots of families who want cats! The families get to know me well and once again, it is natural progression for us to form a friendship and a doctor-patient relationship.
Help out, become a regular, be genuine and you will bring in new patients to your practice. Use your business cards and brochures to leverage your messaging.
Google Adwords
What is Google AdWords?
When you go on Google and enter a search, you see two types of results.
Organic Results — these are search results based on your search terms. Google's algorithm simply associates your search terms with the content that is out there on the website and then delivers what they feel is the best match.
Google AdWords Results — these are results based on your search terms, but they are delivered to you because people pay for them.
Google AdWords vs. Google AdWords Express
The main difference between Google AdWords and AdWords express is that Google AdWords is more powerful than AdWords Express. Yet both allow you to show your ads on Google.com, Google Maps, and relevant websites within the Google Display Network. Also, both AdWords and AdWords express allow you to make targeted messaging in your ads to attract and engage potential customers. There's no advantage to using both advertising products at the same time.
If you really want to use Google AdWords, but you feel it is too complex, try Google AdWords Express – it is much easier to use but you have less control.
My Tip: For practices with a strong optometry marketing backbone or for those who use a 3rd party marketing company to help them with their website, I suggest using AdWords. If you're just getting started and need to keep things simple, AdWords is going to make you sick to your stomach because it is VERY complex. In this case, I highly suggest optometry practices use Google AdWords Express.
How do you use Google Adwords?
You begin by logging into google.com/adwords. You will see a dashboard that has all sorts of options on it.
To use Google AdWords you will start with creating a campaign. Each campaign consists of ad groups and each ad group consists of keywords. The goal is to organize your campaigns into topics, and your ad groups will all be about that particular topic, further more, your keywords will be even more specific to that topic. Your ad groups can contain as many ads as you want and the ads rotate among the keywords you have.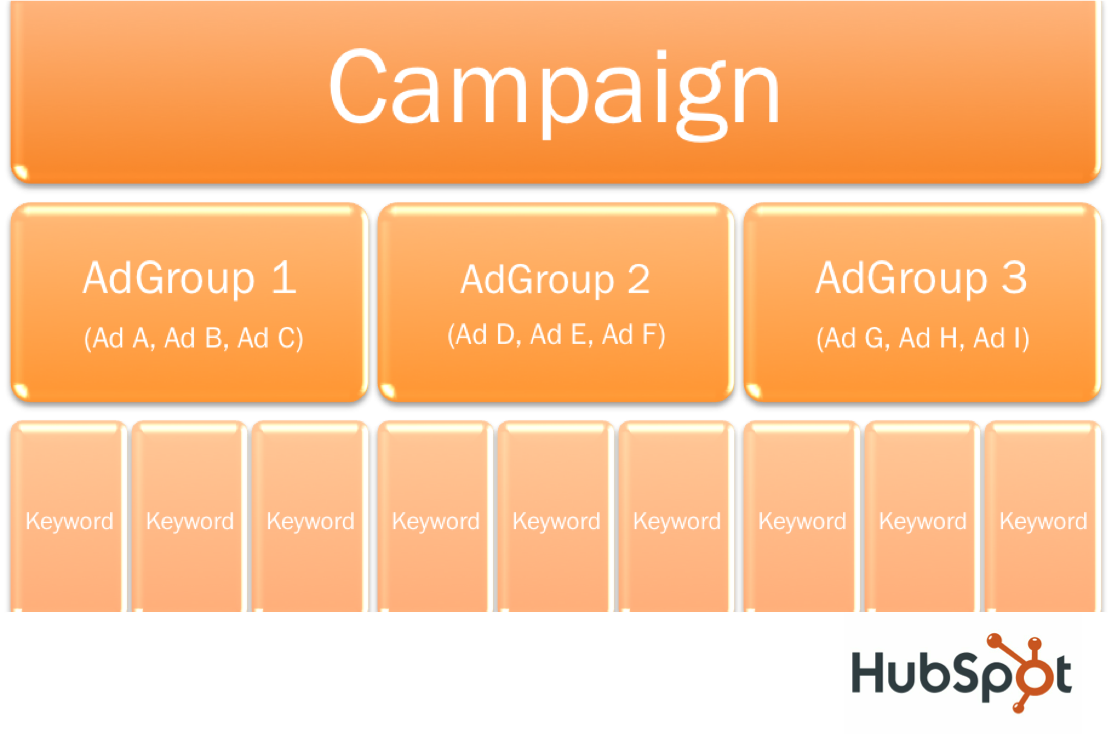 For example, I want to do a campaign related to students home from college for contact lens exams.
My campaign topic might be "Students and Contact Lenses"
My Ad Groups might be "Soft contacts / Rigid contacts"
My Keywords might be specific to each ad group: so I might use soft contacts, Acuvue contacts, contact lens exam San Diego etc. For the rigid contact lens Ad Group I would use keywords relevant to rigid contacts.
How do you set up a budget?
Simple — there is a field you will fill out to enter your daily budget. From there, Google Adwords will make sure to stay within that daily budget.
Google Adwords allows you to bid on clicks for your ad. There are many bidding options and each serve a different purpose. For example, you can set the bids for each click, or you can have AdWords set bids to help maximize clicks within your budget. Depending on the volume of advertisers bidding on a specific term, the cost of a click can change from minute to minute.
Features and Tools
There are a few things about Google Adwords I really enjoy and help target customers better.
You can set your ad to only show to people in a certain location
As optometry practices, we really only want to target certain zip codes because that is where our patients come from. This allows you choose where your ad will appear and even estimates how many people your ad will reach in a given zip code. This feature will optimize your ads to only appear to patients that are within your target market.
Location Extensions
This feature will show your address in your ad. This is useful on Google Maps and mobile devices and will come up if people are searching for you while they are driving or ready to visit your office.
Site links Extensions

This feature allows you to place a link to relevant content that exists on your personal website. For example, if my ad is about LASIK co-management, I want that person to visit my page about LASIK on my website.
Call Extension
This is my favorite because you can track it! Basically with this, your phone number will appear below your ad. If the user calls from a mobile phone, you can see how many calls were generated from each ad and how long the phone calls lasted. Also, it will generate a fictitious number so that Google can track how long the call lasted, and which ad caused the phone call to happen. They don't record the phone calls, they just show you how many calls, when and how long they lasted.
Google is VERY helpful
This stuff is complex, so if you have a question, just click the gear wheel on your Google AdWords Dashboard and click HELP – LIVE CHAT. I utilize this monthly and it teaches me about how to do better with my campaigns.
Keep in mind, this is how Google makes their revenue, so they donate a ton of resources to making sure you keep spending money with Adwords!
Resources if you are serious about Adwords
A Simple Guide for Setting Up Your First Google AdWords Campaign
Googles Guide to Starting an AdWords Campaign
Optometry Lead Generation Groups
When it comes to getting patients in your optometry practice, there is a pretty quick and easy way to make it happen. Join what I call a Referral Club and others call a Professional Leads Organization or B2B (business to business) lead generation.
I'll be honest, this isn't my favorite form of optometry marketing, but it gets the job done, especially in the early days.
These groups consist of members who come from all walks of life. Some are in the insurance business, accounting, printing/copying, contracting, personal training and other professions. Sometimes these groups only allow one of each type of professional in order to decrease competition. Their goal is to provide each other with business leads.
For example, I might have a patient who is starting a business, and so I would give them a referral for a CPA. At the same time, that patient might have a client who complains they can't see their computer and would send them to me.
It is a very nice and easy system and the groups usually meet once per week. The group typically holds you accountable for generating leads and keeping active. They give you a chance to present and get involved.
Optometry Lecturing
This is one of my absolute favorite forms of optometry marketing when it comes to bringing new patients into my practice. 🎤
Here is how I define lecturing:
Lecturing — involves doing a public speaking seminar, at a public venue, on a specific topic, with the purpose of delivering value to your crowd in hopes of converting them into patients of your optometry practice.
Where can you lecture?
Schools
Businesses
Gyms
Yoga Studios
Invite people to your practice waiting room
Pharmacies
Holistic Shops
YMCA
Churches, synagogues, temples, religious headquarters
Wellness fairs
Food Establishments
You would be surprised how many people would welcome a doctor willing to share knowledge. Many people who I have spoken with are very much willing to have me come in to lecture.
Supplies to Bring
Business cards
Brochures
Models
Posters
Starbucks gift cards
Amazon gift cards
Vouchers for free items at your practice
Samples of products you are talking about
Also you might want to consider doing a "screening" at your practice. Why not consider doing a glaucoma screening with your Cirrus OCT? Maybe ask your sales rep to help you out: that's what they are there for.
Topics to Lecture On For Optometry Marketing
Here are some of the lectures I have done and plan to do. Notice a trend? I would suggest you lecture on whatever you are passionate about. Passion will bring patients, and patients will make you successful.
Oh and just so you know, I back every single lecture with clinical studies so that it's relevant and as scholarly as can be!
10 Nutritional Recommendations You Can Do Today to Improve Your Eye Health
How Meditation Directly Effects Eye Health
Pediatric Vision is More Than Just 20/20
Why Butter, Coffee and Dark Chocolate are Essential for Healthy Eyes
How LED Light From Your Smart Phone is Causing Damage to Your Eyes, and What To Do About It
Why Your Eyes Hurt So Much After A Long Day at Work – Computer Vision Syndrome
You might only get a few extra patients in your practice from lecturing each event, but a couple of patients here and there who then go on to refer their friends and family to you will add up exponentially over time.
For top

marketing strategies

from experts in the field, check out this article and video with Trudi Charest.
E-mail / Facebook Message Your Friends
This isn't about a social media strategy, that is another topic entirely. Instead this is simply drawing attention to Facebook and E-mail and utilizing them as a referral source.
Hop on your e-mail or Facebook and send a mass message to every single person you know. This will be sure to help drive some business!
Sample of a Facebook Message to Friends:
Hey everyone,
I just opened a practice about 30 days ago located on ______address here______. I am super excited to be seeing patients on ____list your hours here____, but I could really use your help to get my schedule busy with new patients! Consider stopping by for your annual eye exam, or any problem that has been bothering you. Also, telling your family members about the practice would be a HUGE help! Just contact us here ___contact info here____ to make an appointment with me.
____Insert special discount or coupon here to be applied towards your grand opening as the new OD____
I appreciate all your support and hopefully will see you next week for your eye exam.
Warmly,
-Matt Geller, OD
Social Media
Facebook is a great avenue for optometry marketing and does not have to be time intensive. You should seek to post 2 to 3 times a week and focus on engagement and less on "likes."
Posting on what you are passionate about is always a great strategy. People and patients want to connect with a real person who share similar interests. Show them that you are more than just someone who examines eyes all day!
The anatomy of a great Facebook post is one that conveys an emotion. What you are posting should connect with your audience. Oftentimes, a picture can incite a great response from your audience. If a post doesn't have an image, your readers will likely scroll right past it. Try using real pictures of your practice: that is what people want to see!
A voice is important. Sometimes people feel like they need to develop a persona. If you allow your personality to come through, you can give your patients an opportunity to connect with who you are.
Picking Your Platforms:
The general consensus is that Facebook and Instagram are key. These two platforms command a large audience and will allow you to connect with a large population of patients who make buying decisions.
Facebook Advertisement Platform is a great way to boost your posts. You should be extremely specific though on the ad settings to make sure those who will engage with your posts will see your advertisements.
There are many other methods and means of marketing your optometry practice. It is impossible to cover them all. Doing a little bit of research on your patient demographic and the location of your practice (which you likely already have done prior to opening) will help you determine which marketing strategies will work best!
There are far too many strategies to share in this article, so be sure to download the complete ebook which will take you step by step through all of our recommended print and digital marketing strategies. 👇